Vanna White Talks Dentistry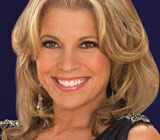 Vanna White has been a household name for the last 27+ years and is best known as the first female co-host of the game show, Wheel of Fortune. She radiates a warm, friendly, down-home appeal and says when describing herself, "what you see is what you get!" While this is quite true, there is so much more to her. She has received a star on the famous Hollywood Walk Of Fame, has starred in an NBC movie and written a book. She is even featured in The Guinness Book of World Records as TV's most frequent clapper, and most recently started her own line of yarn called Vanna's Choice with half of the proceeds going to St. Jude Children's Research Hospital. And while any one of these accolades could serve as the highlight of a lifetime for most, for Vanna they fall slightly short. Her favorite job is being mother to her son, Nicholas, and daughter, Giovanna.
The following are excerpts taken from an exclusive interview in Dear Doctor magazine, the premier oral healthcare resource for patients and consumers.
What is the secret to her dazzling smile?
Vanna's oral healthcare routine is the same today as it has been since her childhood — and one everyone can follow. She brushes her teeth at least twice a day (morning and at bedtime) and flosses her teeth daily. She also has strong feelings about flossing. "I think that flossing is the most important thing. I believe that dental floss helps a lot as it keeps your gums strong and looking younger."
What about bleaching, has she done it?
Absolutely! Vanna bleaches her teeth once or twice a year to help retain her naturally white teeth and to offset any discoloration from coffee and an occasional glass of red wine. "I have done over-the-counter and professional bleaching, but I do like the trays my dentist made because they fit perfectly." She also states, "Anything you can do professionally is probably better because I would assume that a dentist's ingredients are stronger than over-the-counter products."
Has she had any cosmetic dentistry?
When it comes to answering a question about cosmetic dentistry, Vanna is just as open and honest as she is about everything else — a trait for which she is known. "I had a bridge put in probably 30 years ago, where I had a tooth pulled and there was a space. And I did have a little tiny chip on one of my front teeth years ago that my dentist fixed. But that is it. Again, I feel very fortunate to have good teeth. The braces [from her childhood] straightened them out and there has been no need for any cosmetics since then."
Does she do anything to protect her teeth?
While she admits to occasionally forgetting to use her nightguard, a protective mouthguard worn during sleep, she firmly believes in their need. "I do sleep in a nightguard because I grind my teeth. I have a filling in the back that probably has been filled five times from grinding." She added, "Both of my children do have mouthguards that they wear for their sports."
Want a smile like Vanna's?
Contact us today to schedule an appointment or to discuss your questions about bleaching, cosmetic dentistry or mouthguards. You can also learn more about Vanna by reading the entire interview in the Dear Doctor article, "Vanna White — The Smile Defining America's Favorite Game Show — Wheel Of Fortune."